Our Story
Over 45 years ago the story of New Community began in the front room of a house with a small handful of us. A lot has happened since then! We've seen Jesus do amazing things in many lives and now, hundreds of us meet each week in smaller Communities in different locations. On Sundays, we gather together in different meetings to celebrate all that God has done and is doing. Whatever your story, whatever your background or lifestyle, you are welcome with us.
Step into the Story
Since the start of New Community Church we have been on a mission to make Jesus known to our local communities and to the nations of the world. It has been a story of pioneering adventure, courageous risk-taking, and God's unfailing faithfulness.
Although our language and methods have changed over the years, the things that matter most, our purpose and our DNA, really haven't. We have always sought to be a church that is rooted and grounded in the Word of God, and led by the Spirit of God. We love the grace of God, and are passionate about people knowing and experiencing the life-changing reality of knowing Jesus. We believe that it is Jesus, and Jesus alone, who is building his church, and that he is gathering for himself a people from every tribe and every tongue.
This vision of the future drives our present. We are committed to building the kind of church we read about in the pages of Scripture; an exciting, diverse, joyful, prayerful, missional community of believers from different walks of life;  a family of disciples, family members, and missionaries!
We have a wonderful history but we believe the best is yet to come!
When we dream about the future, what we are most concerned about is introducing people to Jesus and helping them see their place in His story.
Join the Story?
We would love for you to find your place at New Community. The best way to explore and find out more about us is to join us on a Sunday and connect with a Community that meets near where you live. 
If you have a question or would like someone to connect with you, you can get in touch here, or watch more video stories here.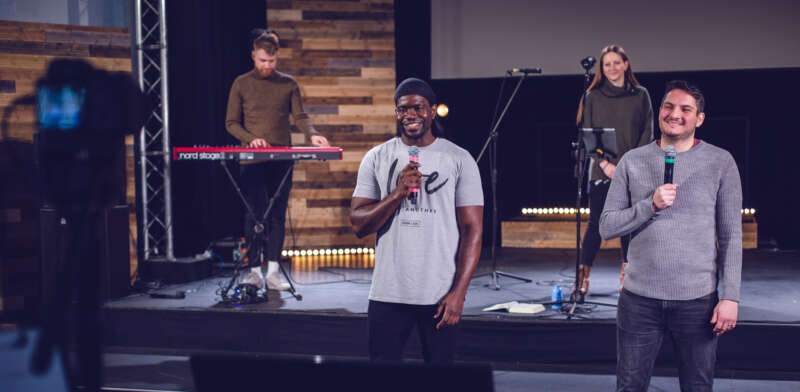 Our Partnerships
When we open our eyes and look around us, it doesn't take long to realise that there are many things wrong in the world.
We don't just want to observe the problems, we want to play our part in doing something about it and so we are delighted to partner with Compassion, International Justice Mission and Home for Good. These are brilliant organisations doing amazing work across the globe.
We also love to partner with other churches locally (through things like Foodbank) and we are members of the Evangelical Alliance.
We love being part of something much bigger than ourselves too. We are part of New Ground, a family of Newfrontiers churches across the world.
Who We Are
Every week hundreds of people volunteer hundreds of hours to make New Community Church happen. People from every walk of life working together as part of one big team. 
To see the whole staff and leadership team, please click here.